If I could wear jeans every single day of my life I would. I am always looking for jeans that will suit every occassion and mood that I may have on any given day. May I present the four pairs of jeans on my shopping list at the present moment, I hope this inspires you to have a well rounded denim wardrobe!
The first pair is a style I am sure many of you own, long, boot cut, perfect over heels and boots and really just a comfortbale, versatile pair of jeans that you can wear year round.
The second pair is a style that is fairly recent, the boyfriend style is relaxed and great for running around on weekends or just lounging around.
Third is one of my favorites right now, I love the crop style, I have seen celebrity
Rachel Bilson
wear this style best in a pair designed by Adriano Goldschmied. I am in awe of how she pulls these off and can still make them look classy even with the rips and tears. If I ever get a chance to try these on I will keep you posted on how they look (I have a feeling she may be shorter than me so this is why she pulls them off so well), there is a good chance that with my height these could look like bermuda shorts instead of crops (I am exagerating a bit) so I will have to check them out in person.
Lastly, the skinny jean. Sexy, stylish, great for wearing inside your boots and with heels or sandals. These jens are very flattering and are great to wear with a flowy shirt. I like tops to be a bit looser so the slim bottom really balances out the proportions.
Here are a few brands I love:
7 For All Makind "A" Pocket Bootcut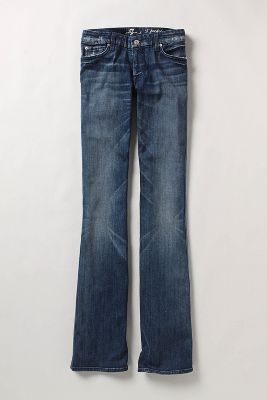 Big Star Taylor Boyfriend Crop in 16 Year
Paige Premium Denim Venice Crop in Largo
1921 Denim Taylor Slim Straight Leg in Indigo Medium
Who is your favorite denim designed and what style to you prefer to wear?
See you
swoon
,